Some time has passed since "contextual insights" was promoted (by Bruce Tempkin and others) as a great opportunity to deliver and activate insights.
Contextual insights – as the opposite of pure statistical analysis – need a broad and deep understanding of our clients' business. In other words contextual insights are "…observations drawn from data that resonates with an understanding of the business".
We benefit from contextual insights primarily by understanding the business context for the interpretation and application of the results, combined with adequate data.
I like the idea very much, I think it's extremely charming. We might need more than data to deliver good insights. We have to dive deep into the client's business world and understand the context of their needs and opportunities.

But that's not easy in every case (and btw. that's the reason why highly specialized companies more often employ their own market researchers instead of commissioning external agencies…)
Social Media Data is a perfect field for contextual data. Although there are tons of data, they weight nothing without appropriate context information.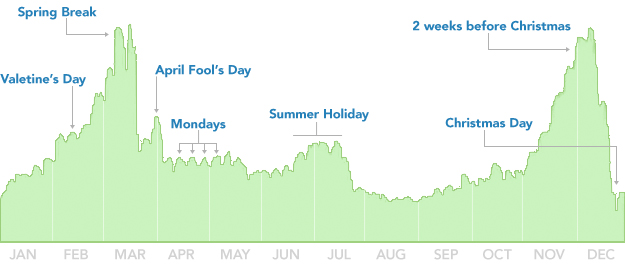 This is a graph of more than 10,000 Facebook statusmessages, where people have reported that they have separated.

What is clearly missing here are real "contextual insights", because the data reveal only the "when" and not the "why". But as a starting point for analysis and as a pool for building hypothesis social media data could be quite interesting.
The question that remains is whether this is already the end of the road or if there is more.

Let's see what we can learn from the 2011 TMRE11 in November, hosted by IIR USA. There is a nice track called "Activating Insights". Really looking forward to it